We're excited that you're considering ProWorkshops at Therapy West, Inc. for your continuing education needs. We believe that continuing education courses are critical for the development of therapists. We strive to offer courses that are based on the latest research and are taught by leaders in the field. ProWorkshops at Therapy West, Inc. has been providing continuing education for over 10 years and we are confident our workshops will help further your professional development.
Development of Pediatric Gait & Posture:
"When, Why and How to Intervene"
Friday, April 26 – Saturday, April 27, 2019
Instructor: Liesa Persaud, PT, DPT, PCS, CKTP

This 2-day intermediate level workshop covers therapeutic evaluation & treatment of pediatric gait and posture. Evaluation of posture &/or gait dysfunction in children is not as difficult as it first seems, and the results can be very rewarding. However, children are not small adults, so merely applying adult-based treatment techniques to a child can be both a waste of time and a potential risk for harm. A child's skeletal and neurological systems are immature and underdeveloped, so it is critical for practitioners to be aware of what is both normal and atypical. This seminar addresses the flaws of a "wait and see" approach, while supporting proactive & preventive intervention, with proposed methods for enjoyable, realistic & effective intervention. The increased prevalence of developmental delay is considered. Proposed etiologies of developmental delay are discussed, & the future effects on postural control, language, cognition, & social interaction.
This course emphasizes the value of deliberate intervention for pediatric gait. Content highlights gait & its relationship to multiple body systems. Neuroplasticity, & the opportunities it provides for therapists, is presented with regards to ideal upright mobility. This course clearly explains the significant components of evaluation and treatment of pediatric gait and posture, in a clinically relevant manner. Participants will leave with skills and treatment tools to immediately put into practice.
Download our brochure for more information and a registration application, or use the registration form below.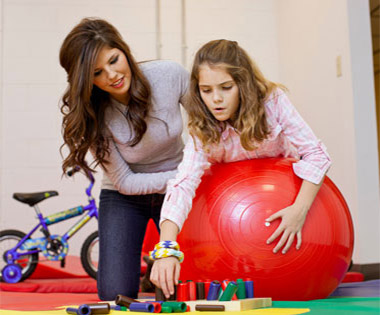 Oral Motor, Feeding/Swallowing, and Respiratory Coordination Function in Children with Neuromuscular Involvement
Friday, March 16 – Sunday, March 18, 2018
Instructor: Rona Alexander, PhD, CCC-SLP, BCS-S, C/NDT
This 3-day workshop (17.25 contact hours) will focus on what members of a multidisciplinary team need to
know about the assessment and treatment of infants and children with neuromuscular impairments and
challenges to their oral motor, feeding/swallowing, and respiratory coordination function. Special emphasis
will be placed on understanding a variety of areas that may be influencing a child's feeding and swallowing
function; the impact that body alignment, active postural control, and sensory factors have on oralpharyngeal
function; and suggestions for the incorporation of strategies focusing on these areas into
treatment programming. Treatment planning and strategies to improve cheeks/lips, tongue, jaw, and rib
cage/respiratory function will be discussed. Audiovisual materials and a patient demonstration session will
be used to provide problem-solving experiences to assist participants in integrating information.
Download our brochure for more information and a registration application, or use the registration form below.
NDT Facilitation Techniques
June 22-23 and June 25-26, 2018
Instructor: Louis Bly
This two day course (14.5 contact hours) will include lecture, lab and treatment demonstrations. An overview of principles of NDT facilitation will be presented, facilitation techniques will be reviewed and practiced on classmates, and treatment demonstrations by the instructor will apply the use of the techniques on children with developmental delays
During each session participants will learn facilitation techniques appropriate to use with children and adolescents with cerebral palsy. Participants will practice each technique on various classmates and will have techniques practiced on them. This is primarily a LAB COURSE. Participants must wear clothes that enable movement.
Facilitation techniques will include those used for transitional movements, trunk, upper extremity, and lower extremity mobility and control. There will be a treatment demonstration with a child with cerebral palsy on Friday and Saturday afternoon to demonstrate the actual application of the techniques. The book by Lois Bly and Allison Whiteside, Facilitation Techniques Based on NDT Principles will be used as the text.
Download our brochure for more information and a registration application, or use the registration form below.

Pediatric Kinesio Taping
August 3-4, 2018
Instructors: Audrey Yasukawa & Patricia Martin
The dates and instructors for this course have been confirmed. Brochure and registration information coming soon.

Future Courses
Also in the works, to be confirmed soon:
Therapeutic Evaluation and Treatment of Pediatric Gait and Posture – January 2018
Therapeutic Evaluation and Treatment of Toe Walking (3 days)
Other courses in the planning stages:
Behavior vs Sensory Integration (dates TBA)
Introduction to Sensory Integration (dates TBA)
If you have any questions about our current or future courses, please contact our course coordinator Dominique Kiefer by phone at (310) 256-1635 or by e-mail at dkiefer@therapywest.org. Join our Facebook group to stay up to date with ProWorkshops courses. New courses will be announced on our Facebook site and group members will have the opportunity to register first. You can also stay up to date on our new course offerings by joining our ProWorkshops e-mail list.